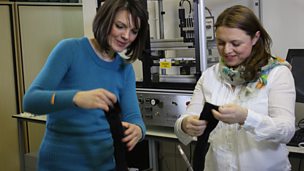 Inventing clothes inspired by nature
Duration: 05:31
Fran Scott from the BBC series 'The Imagineers' describes how Dr Veronika Kapsali from Northumbria University is researching fabrics with several uses. Each year over one billion items of clothing in Britain are thrown into land fill. Smarter fabrics would reduce this clothing waste.

Dr Kapsali has turned to nature for her inspiration. She has looked at penguin feathers to investigate fabrics that, in the future, may be both warm and waterproof. She has also looked at pine cones to investigate fabrics that shrink when wet (like pine cones) to become breathable when we sweat. She uses a 3D printer to make her fabrics.
Available since: Tue 21 May 2013
This clip is from
Meeting the next generation of engineers working on major global challenges.
First broadcast: 21 May 2013